General Radiography System RFM-SERIES 325 R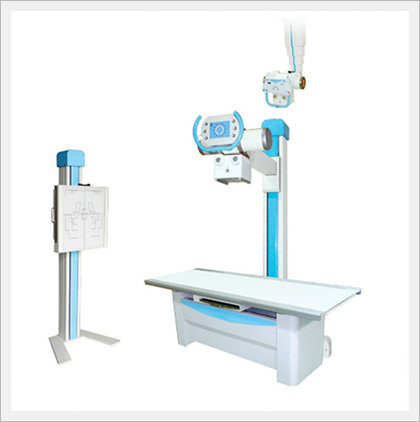 | | |
| --- | --- |
| Origin | Korea |
| Model Number | RFM-Series |
| Brand Name | Medonica |
Designed for flexibility and friendly use in all general radiographic procedures, enhances productivity, user operability, patient comfort and safety.
A ceiling-suspended X-ray tube system with a wide range of movement allows excellent imaging, technique flexibility and easy access to the patient. This enhanced flexibility is ideal for imaging centers that demand high productivity to meet fast patient throughput.
The System is DR ready and can accept any commercially available DR flat panel, fully-integrated or portable.
The compact, space-saving high voltage generator provides more working space as well as a flexible layout. A ceiling-suspended X-ray tube further increases the spatial area around the patient on a Bucky table or trolley. RFM-Series is Medonica's general radiographic system for compact floor-ceiling / wall mounted tube support installations, designed to exacting specifications to deliver high-performance, high-quality, and cost-effective operation in a superior general radiographic system.
Features
Full accessibility around the patient
High speed spot film device
Smooth and silent operation for patients convenience
Ergonomic control desk
Modular
User friendly
Reliable
Digital ready
Table
Floating-top general radiographic table for Bucky radiography.
Good images can be acquired by our own oscillation Bucky grid system.
Electro-magnetic lock with permanent magnet provides easy moving and safe operation.
Bucky table can easily lift up to 150kg.
Cassettes from 14" x 17" to 6 1/2" x 8 1/2" in size are useable.
(Cassettes are available in cm or inches in accordance with the IEC and also have a thickness of 15 mm or less.)
Bucky Table with 4-way Floating table top (Standard)
Four way movable table top for easy and fast and quick patient positioning.
The material of the table top is a high-impact melamine / acrylic plate which is designed for heavy-duty purpose.
The smooth movement of large floating table top.
Electromagnetic locks for precise positioning and patient safety.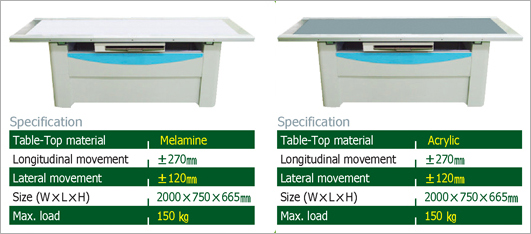 Elevating Bucky table with 6-way Floating Table Top (Option)
The transverse, longitudinal and vertical movement of table top for general purpose radiography
Height adjustable table top for easy transfer of patients from bed or trolley (low 55cm - high 88cm) and Particularly well suited for orthopedic and hard-to-move patients.
Easy patient positioning thanks to floating and height adjustable table top
Sharp and accurate image of long-distance radiography due to the enlargement of radiographic range
Electromagnetic locks for precise positioning and patient safety

Tube Support & Bucky Stand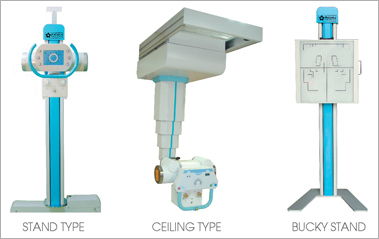 Stand Type
- All movements are smoothly operated by fully counter balanced weight system and using electromagnetic locking system. So it is very easy to set the position.
| | |
| --- | --- |
| Longitudinal movement | 2100mm |
| Vertical movement | 1300mm |
| Lateral movement | 1400mm |
| Column rotation | ±180° |
| Tube rotation | ±90° |
| Size (W x L x H) | 3660 x 1000 x 2900mm |
Ceiling Type
- This is an overhead tube conveyor system for supporting an X-ray tube.
It is designed for use with a diagnostic x-ray table and auxiliary radiographic equipment. Ceiling suspension of modern conception and design, characterized by extreme robustness and reduced dimensions.
The long vertical travel range provides sufficient source Image distance for images in the supine position as well as for low position images.
| | |
| --- | --- |
| Longitudinal movement | 2790mm |
| Vertical movement | 1370mm |
| Lateral movement | 1480mm |
| Column rotation | ±180° |
| Tube rotation | ±90° |
Bucky Stand
- Long vertical stroke (100cm) allows easy positioning.
- A fully counter-balanced cassette holder provides you smooth movement.
- Good image quality by maintaining the shortest distance from the front panel to the film.
- Right or left cassette insertion can be decided by user.
- Simple grid change.
- A spacer is not required to set the cassette.
- The cassette can be easily set in up-base or center-base position.
- Cassettes from 14" x 17" to 6 1/2" x 8 1/2" in size are useable in either lateral or longitudinal orientation.
(Cassettes are available in cm or inches in accordance with the IEC and also have a thickness of 15 mm or less.)
| | |
| --- | --- |
| Vertical movement | 1000mm |
| Size (W x L x H) | 1935 x 770 x 500mm |
| Front panel to film | 32Bmm |
| Lowest position from the bottom | 200mm |
Diagnostic X-ray Generators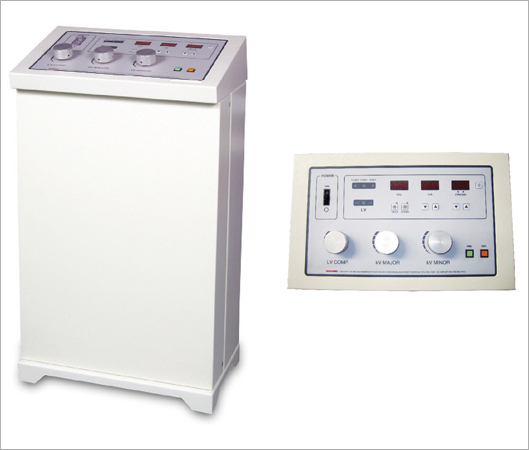 Features
Micro processor control
Simple to use
No technical trouble
Low maintenance cost
Efficient operation
High throughput
Over load protection
Self diagnosis - Error Code Display
Description
:
RFM-325R
Controller
:
RG-325R
H.V Transformer
:
RG-325T
Power Consumtion
:
30 KW
Maximum
output ratings
:
:
300mA at 100KVP
200mA at 125KVP
Raiographic
setting mode
mA Setting
:
50mA to 300mA
KVP Setting
:
40KVP to 125KVP
Time Setting
:
0.01sec ~ 6sec
Dimension
(W x D x H)
Controller
:
535 x 320 x 918mm
H.V Transformer
:
518 x 388 x 425mm